01-15-2020, 12:07 PM
Area code 512 is found in the US state of Texas. Primarily servicing the city of Austin (population: 939926), area code 512 covers 12 counties of Texas.
Located in the Central time zone, area code 512 is on the same time as Chicago, IL.
Area code 512 was brought into effect on January 1, 1947.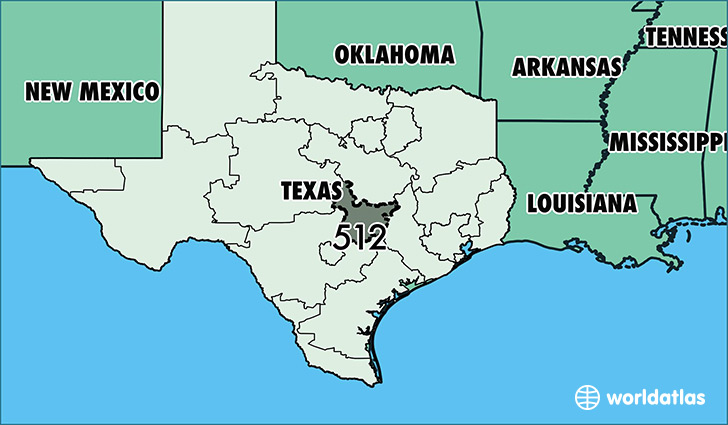 Counties in Area Code 512
Bastrop,
Burnet,
Caldwell,
Gonzales,
Hays,
Lampasas,
Llano,
Milam,
Travis,
Williamson.
Most Populous Cities in Area Code 512
City County City Population Time Zone
Austin Travis 939,926 CST
Round Rock Williamson 150,538 CST
Georgetown Williamson 74,553 CST
Pflugerville Travis 73,578 CST
Cedar Park Williamson 70,184 CST
San Marcos Hays 68,467 CST
Austin Williamson 53,564 CST
Leander Williamson 47,741 CST
Kyle Hays 46,135 CST
Bastrop Bastrop 25,360 CST
Buda Hays 25,259 CST
Hutto Williamson 24,596 CST
Del Valle Travis 23,477 CST
Elgin Bastrop 22,177 CST
Taylor Williamson 19,062 CST
Manor Travis 17,515 CST
Lockhart Caldwell 17,380 CST
Dripping Springs Hays 15,442 CST
Wimberley Hays 13,553 CST
Burnet Burnet 13,188 CST
Austin Hays 12,973 CST
Lampasas Lampasas 11,834 CST
Cedar Creek Bastrop 11,585 CST
Leander Travis 10,453 CST
Liberty Hill Williamson 10,204 CST
Note: The above list is based off of the top 25 most populous cities in the area code as per 2012 United States Census Bureau estimates.